Legos are a fun educational toy as well as overall healthy toys for kids. Lucas looks at some of the most popular lego kits with kid and 5-year-old boys in particular.
What are Lego Toys
Lego Toys are a line of plastic construction or a building type of toys created and manufactured by The Lego group, it is a private company in Billund ( home of Lego Group head office), Denmark. 
It consists of various colored interlocking plastic bricks, and come in many shapes, sizes, colors, and building blocks that can be joined together by studs on top and holes in the bottom of brick to make a house, tower, vehicles, buildings, and working robots, etc. These are the most popular building toys in the world. Same as Lego Toys, you can convert transformers toys into vehicles, animals to back again.


All the bricks from the Lego sets can fit together, they prepare new bricks that are easily fit with old bricks, no matter what the brick set is. The meaning of Lego is nothing but a sort of building block. You can play with these lego toys in the beach also, because they are plastic bricks, light weight, easy to carry. Along with these lego toys, you can play with the best beach toys for kids on the beach for fun and entertainment.
There were millions of Lego fans and many Lego conventions around the world. Based on the Lego toys, they develop video games, bored games, television shows, and films, wrote some books and magazines, and produces clothes branded as "Lego wear" (children's clothing).


History of Lego Toys
Lego is a type of building toy created and made by the Lego group, and the group was started by the Ole Kirk Christiansen(1891-1958), a carpenter from Billund, Denmark, who first began making wooden toys in 1932. In 1934, he started a company called Lego, derived from Danish Phrase leg godt, which means play well.
Likewise here is a video on the history of legos for kids.
The motto of the Lego group is " only the best is good enough" was created in 1936. This motto which is continued nowadays also encourages his employees to never skimp on the quality of the product. Lego toys were prepared by the high standard set of plastic. 
He made and sold his first plastic Lego sets in 1940. In 1949, Lego began producing other new products with an interlocking system called "Automatic Binding Bricks".
In 1954, Christiansen's son Godtfred (he was the third son of him) had become the junior managing director of the Lego group. He observed some problems in the Lego toy interlocking system, their locking ability was limited and toys were not versatile. In 1958, the modern brick design was developed on January 28th with new material ABS ( Acrylonitrile Butadiene Styrene ) polymer.
The new product of the Lego group was introduced in 1969 called Duplo, it's in a range of simple blocks whose length is measured twice the width, height, depth of the standard blocks, which were developed and aimed for the younger children.
In May 2011, they introduced new mission, in this mission astronauts built and brought 13 Lego kits to the international space station, in this mission they observed, how they would react in microgravity as a part of Lego Bricks Space program called STS – 134 (Space shuttle Endeavour)
The largest model ever created was first displayed in New York City with over 5 million bricks in May 2013. In 2015 of the Feb, Lego replaced Ferrari as the world's most powerful brand.
Most Popular Lego Toys

Childhood age is very important for everyone's life, in that age only we have to develop the thinking, creativity, observing, good self-esteem of children, and puzzle-solving, kids are the quick learners compared to adults.
Lego toys are simple and easy to handle by the children, they can start building this self-esteem from the toys that they can play at home or school. For this purpose, we have to choose the toys that help for both entertainment and learning. Lego Toys, Cooking Toys are the best choice for this case.
Kids who use Lego sets, will actively develop motor skills, learn cooperative play, will get a sense of achievement and learn science, comparatively with other kids.
In addition with these toys, Check out the best scientific toys for kids. 
Most popular Lego Toys partial list given below.
1. LEGO Super Mario Bowser's Castle Boss Battle Expansion Set 71369 Building Kit:
Kids will love to play, this toy is an action-packed expansion set with flipping, shaking and balancing challenges with Bowser's Castle Boss Battle. It is a super gift for kids who are new to the Super Mario Starter course playset. It includes bowser, dry bones, boo and lava bubble figures along with castle towers with rotating platforms and shaking platforms, a question block, a time block and more pieces for the thrilling and exciting play. While playing we can collect the rewards from the time block and question block.
It includes intuitive instructions, featuring cool tools building more fun with this free LEGO Super Mario app. This app has tips to play with this toy in creative ways and it is a safe platform to share and express their ideas with other fans. It is a fun expansion set for social/solo/family gameplay.
It has 1,010 pieces, a good toy and recommended for kids ages 8 years and above. It features a variety of skill-based challenges and iconic enemies to defeat. Basic dimensions of this toy: 9" H x 18.5" W x 13.5" L, this can be rebuilt and combined with the starter course and other LEGO Super Mario expansion sets in many ways. Kids can play with this toy in many ways, with one toy they can play in many ways.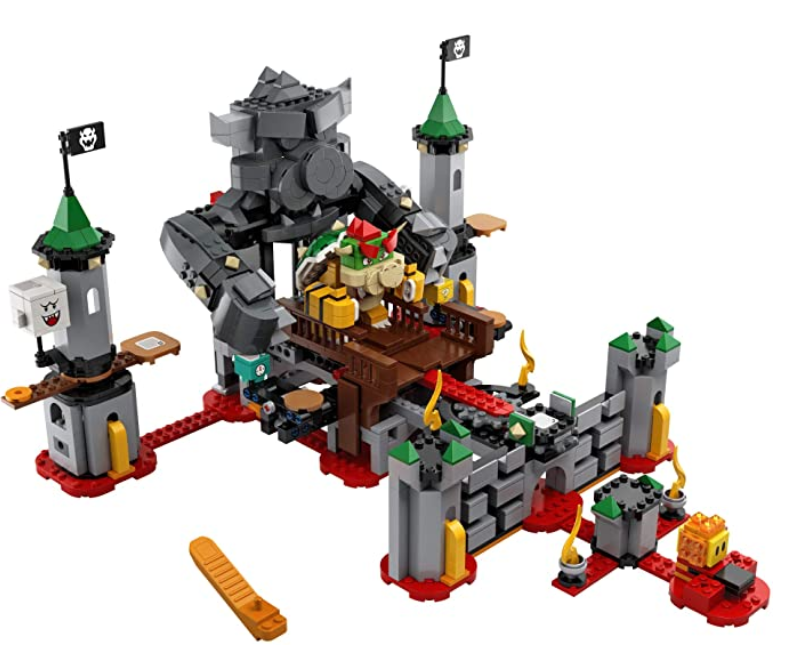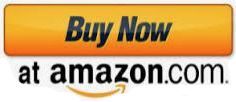 2. LEGO City Fire Station 60215 Fire Rescue Tower Building Set:
It is an action-packed fire rescue tower building set, including 3 level fire station, kids can protect the lego city by using this fire station. This firehouse is equipped with an office, relaxation room, scout toy tower and small water storage for a water scooter. It also includes a separate toy garage with a large opening front door and a landing pad for a detachable scouting toy drone with spinning rotors and a camera, and separate instruction bags to assemble the whole toy.
This fire station features 4 mini-figures, including fire chief, firefighters, and a fire dog figure. Whenever a problem occurs kids can quickly reach fires with the fire off toy vehicle with new working light and sound building bricks.
This toy is perfect for boys and girls aged 5+, who love creating their own adventures with this toy. This 509 piece fire station is compatible with other fire toy vehicles and also with other LEGO sets and building bricks for imaginative play.
While playing with this toy young firefighters enjoy endless adventures, they can reach the area by air, by road, and water to solve the problem in the lego city. LEGO provides the Lego Life app to provide intuitive instructions, building instructions of all lego toys, to help even younger builders through the building process with zoom, rotate, and ghost mode functions to visualize their creations to easy to understand kids.
Fire station dimensions: 11" H x 8" W x 10" L, toy vehicle dimensions: 2" H x 4" L x 1" W, water scooter dimensions: 2" L x 1" W, toy drone dimensions: 1" H x 2" L x 2" W.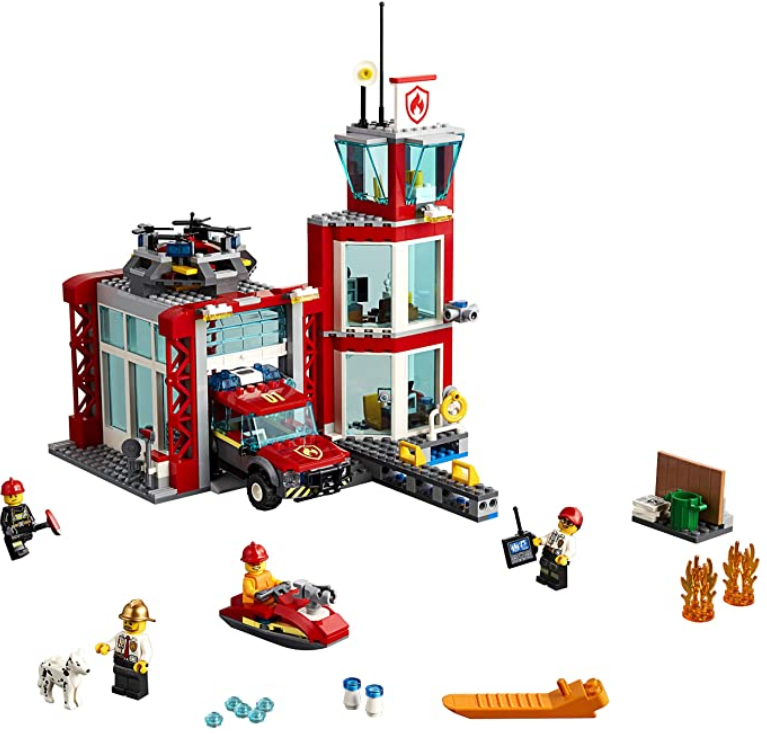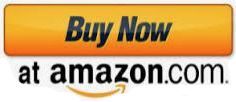 3. LEGO Minecraft The Pirate Ship Adventure 21152 Building Kit:
This toy set comes with a host of features and characters, including a Minifigure with pirate skin, a Minecraft dolphin, a Minecraft turtle with 2 eggs and accessories. Accessories include a map, TNT, fire element base, 2 shovels, chest, treasure, pirate banner, water bottle, torch, and a compass. It features a buildable Minecraft island setting and pirate ship toy with working flick missile cannons, gold detailing, pirate banner, gangplank, and a rowboat. We can move the modular ship sections to create a Minecraft shipwreck, weapons include a sword.
This set includes 386 pieces and it is a good gift for kids who are aged 8+ years, this toy set is very free to improve the imaginative skills of kids, kids will want to build the pirate ship and go on to exciting, colorful adventures with this toy.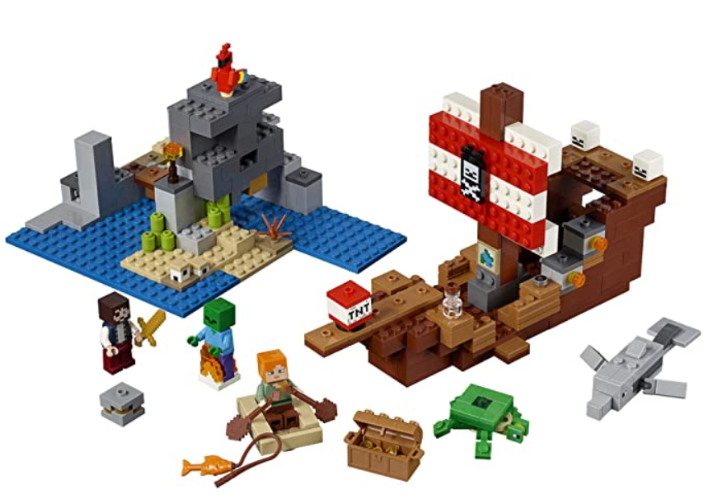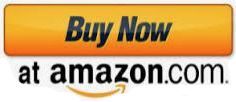 Below are some other popular lego toys.
 Best Lego Sets for Kids:
Lego Friends City Park Cafe. 

Lego Bean There, Donut That. 

Lego Ninjago: Masters of Spinjitzu, The Golden Dragon.

Lego Friends Lighthouse Rescue Center.

Lego Classic Large Creative Brick Box.

Lego City Town City Square.

Lego Minecraft the Zombie Cave.

Lego DUPLO All-In -One-Box-of-Fun.

Lego Juniors/4+Mountain Police Chase 10751 Building Kit.

Lego Creator 3 in 1 deep Sea Creatures Kit.

Lego Friends Central Park.

Lego City Diving Yacht.

Lego City Ice-cream truck.

Lego City Popcorn Cart Mini Set.
Best Lego Sets for Adults( age 9+):
Lego Architecture White house.

Lego Architecture Farnsworth house.

Lego Architecture Studio Set.

Lego Creator Expert Parisian Restaurant.

Lego Technic Bugatti Chiron.

Lego Ideas International Space Station.

Lego Ideas Friends Central Park. 

Lego Star Wars Millennium Falcon.

Lego Architecture Statue of Liberty.

Lego Architecture Fallingwater.

Lego Old Trafford Soccer Stadium Set.
I am writing/sharing my thoughts by getting the experience with my children, to make them happy/busy/learn something, Lego Toys are the best choice to learn new skills with entertainment and education-wise also. Other than Lego toys, Paw Patrol toys are also there for kids to develop skills, fun, and learn knowledge.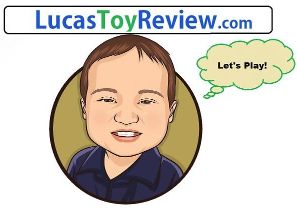 Lucas Toy Review Official Website from the popular YouTube toy reviews channel.