Lucas breaks down the origin of transformers toys, why they are so popular and where to find the best transformers toys for kids. Bumble Bee, Optimus Prime, and more!
What are Transformers
Transformers is a media franchise ( it is a collection of several derivatives such as film, a work of literature, a television program, or a video game )  produced by the American toy company Hasbro and Japanese toy company Takara Tomy.
TIP: You can also skip the history and go straight to the list of top Transformers toys!
Transformer toys will be available in different types like vehicles, a device, and in animals, these toy parts can be shifted and arranged to a robot, and controlled by people, also can be rearranged to its original form. Same as transformers, trains transformed into humanoid robots called as Robot Trains. An Animated movie/videogames/comic book series will be created by using these toys, in that series humans and robots live side by side and battling with evil humans.
The tagline of the transformers is " More Than Meets The Eye" and "Robots in Disguise". Transformers toys will be available in different online sites to purchase and sell at different prices with technical specifications printed. 
History of Transformers Toys
There were different generations available in Transformers toys. In the first generation
( 1984-1990 USA, 1984-1993 UK/Canada ), Transformers toys were created from two different transforming robot toy lines from Takara, the Car-Robots, and Micro Change, from the Diaclone and Microman series, respectively. Hasbro acquired the rights to sell them in the United States but, instead of selling them under their original names, they were rebranded as "The Transformers". The first two years consisted primarily of reusing the Car-Robots/Micro Change molds. It covers both the television animation series and comic book series with the same name.
This series follows a sequel such as Generation 2( 1993-1995 USA, 1994-1995 UK/Canada ) comic book series and Beast wars Television series, which became more popular. Generation 1 characters changed into new characters in 2001 with Dreamwave productions. The third series also started in 2019 and there is a couple of series developed based on different toy lines during and after the 20th century.
 We also found this great video about the history of transformers as well.
Unfortunately for Hasbro and Takara, the generation 2 series was sold poorly, then they went in a new direction and a new beginning as Beast Wars and Beast machines ( 1996-2001 ) with generation 2 failure corrections. 
While Beast machines were still running in Canada, Japanese Takara company made a bid to return to the familiar vehicle transforming concept, Car Robots was released in 2000. This line was brought by Hasbro to America as the Robots in Disguise ( 2001-2002 ).
In 2002-2003, Armada launched a pivotal new era in the toy line. After several lines of toys produced by one company or the other, Hasbro and Takara united to produce what was purported to be a single, identical line of Transformers for release worldwide. In tandem with this new endeavor, Armada signaled a new continuity in its accompanying animated series and a new focus in both the show and the toys on Mini-Cons.
From 2002 to present, they launched a new series with few changes to the existing series and the introduction of various sub-series from previous popular Transformers lines like Classics. Like such, they launched many TV sub-series, video games, comic books and movies with few changes to the existing series by introducing the new concepts and characters as inline, Energon (2003-2005), Cybertron (2005–2007), Kiss Players (2006), Classics (2006), Transformers film(2007), Transformers Animated (2008), Star Wars Transformers (2006), Crossovers (2008), Disney Label (2009).
Most Popular Transformers Toys
When you think about toys for kids transformer toys are the best toys for children. These are more popular toys because they will be available in different types like vehicles, a device, and in animals, these toy parts can be shifted and arranged to a robot, and controlled by people, also can be rearranged to its original form. Even FurReal toys also available in the form of animals like cats, horses, rabbits, dogs, etc. 
Hasbro and Takara Tomy companies developed transformers toys and they became massive multimedia toys with an animated series, comics and a feature film, and many more. Along with these toys, you can check the Best Outdoor Toys for Kids to play outside for fun.
Below are some my partial list of the Top Transformers Toys
1. Kids RC Toy Sports Car: The name itself indicates that it is a remote control car transforming into a robot warrior, to save the galaxy from evil. This toy is a 360-degree spin mode of the transforming vehicle when it sees a dangerous situation. When we press one button, this super sports car transforms into robot mode with electronic lights, sounds and dance movements.
It contains Xenon style headlights and realistic engine sounds. We can move this car forward, backward, left and right by using a remote controller and it is made with high-quality material. Robot Dimensions: 11" x 8.5" x 3.5", Car dimensions: 13.5" x 5.25" x 6.5", this toy is perfect for kids ages 8 to 11 years old. It is perfect with hours of fun and easy to use and it is available in two colors, yellow and blue.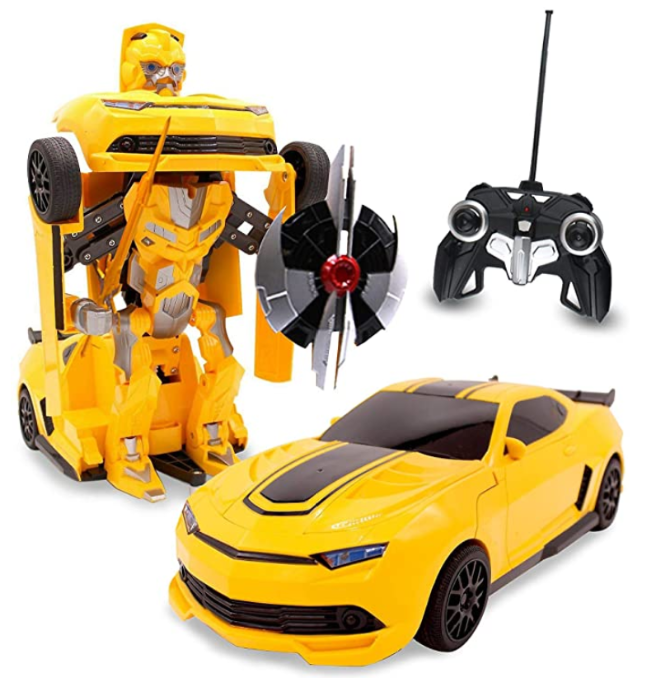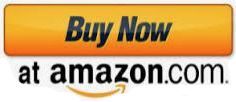 2. iPlay, iLearn Kids 3 in 1 Transformers Robot Toys: This toy is a 3 in 1 transforming toy, contains 65 pcs that can convert into a robot, workbench, and truck. With one toy, you can play in 3 ways, it's a large scale robot of about 15", this will be a big surprise and with big fun for all kids.
Kids can easily change the modes of this toy, hence imaginative and creative skills will be improved a lot while playing this toy, also it teaches building, visualization and hand-eye coordination among children. It is made up of high quality and non-toxic material, hard and smooth plastic. It's a perfect gift for birthday parties, holidays and festivals for kids ages 3+ years.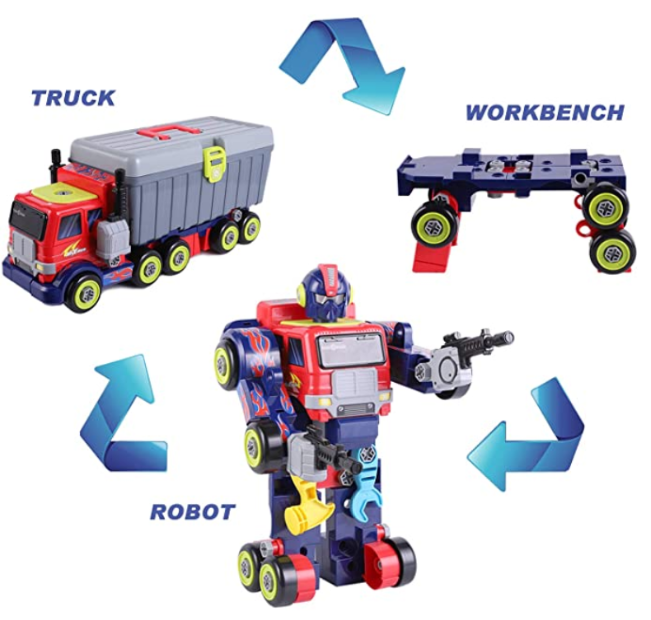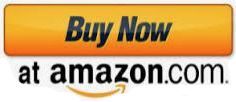 3. Playskool Heroes Transformers Rescue Bots Bumblebee Rescue Guard 10-Inch Converting Toy Robot Action Figure: Robots and humans working together for saving the day by doing rescue bots! With this toy little heroes can play in 3 ways, this toy size will fit for small hands.
Kids can convert the Bumblebee rescue guard figure from vehicle mode to bot mode and back again with Easy 2 Do conversion. Both vehicle and bot modes of this toy lights and sound effect features. This 10" toy gets a rescue boost with the rescue pet figures Sergeant Slobber and Growl the K-9 bot. Kids can convert the 4.5" tall pet figures and to supercharge the Bumblebee rescue guard figure with armor, a capture claw and a projectile Launcher!
 Kids can have fun with Rescue bots by playing with their favorite yellow robot. Fun lights and sounds will be activated by pressing the button on a bumblebee toy. They can play with this toy as a robot or a race car. This toy has been designed for Easy 2 do conversion, preschoolers also can convert this toy from a vehicle to a robot with 1 easy step and it's suitable for ages 3 to 7 years kids.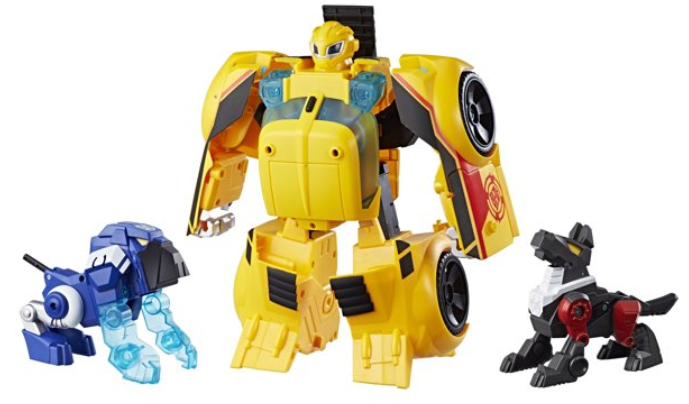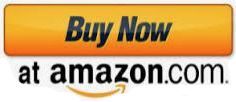 Click here to get the Full List of the Best Transformers Toys.
These are some of the other popular transformers toys :
G1 Ultra Magnus figure.

Masterpiece Megatron.

Masterpiece Star Saber.

Generations Power of the Primes Voyager Class Grimlock.

Transformers Generations Power of the Primes Evolution Nemesis Prime.

Playskool Heroes Transformer Rescue Bots Optimus Prime.

Transformers Generations Power of the Primes Leader Evolution Optimus Prime.

Transformers Generations Power of the Primes Deluxe Class Dinobot Snarl.

Masterpiece Starscream.

Studio Series Optimus Prime.

Flame Toys Drift.

Siege Hound.

Playskool Heroes Rescue Bots Energize Bumblebee.

 Robots in Disguise Combiner Force team Ultra Bee.  

Masterpiece Bumblebee.

Titans Return SoundWave.

Combiner Wars Victorion.

Transformers Generations Leader Class Jetfire.

Transformers Generations Power of the Primes Punch counterpunch and Prime Prime.

Optimus Prime Trailer Playset.

Playskool Heroes Transformer Rescue Bots Blurr.

The Last-knight – Turbo Changer Megatron.
Optimus Prime Toys
Optimus Prime Toys are one of the most popular toys in Transformers. It is the mediator of the primes, who united the thirteen by being first among them to raise an arm in greeting. It is the first toy transforming car to a robot (CarRobots ) created by a team of Takara designers. It changes the Robot mode to vehicle mode and back in just 6 steps. It is a heroic leader of the Autobots and it will protect other Autobots and people of the earth who are in danger. Optimus prime is noble, courageous, and dedicated to doing good things. It is the main character in the Transformers cartoons, 1986 animated movie, and the comics.
This toy has two major components, the first one being a red and blue whitefrightliner WFT- 8664T cab-over semi-trailer truck partially composed of die-cast metal, and the second component being a large silver trailer of a currently-undetermined model. The cab will transform into a robot mode of Optimus prime with the addition of a pair of removal blue fists that plug into his headlights. 
These toys were designed into several models and available in several color variations in the starting days of the design. The starting design has a larger fist, a gun with a thick round barrel, a slightly- differently shaped gas pump, a grey rocket, and a grey roller and a grey launcher in his combat deck and a metal plate on the floor of the combat deck. After that, they made some changes to this toy. we have found some best Optimus prime toys as well.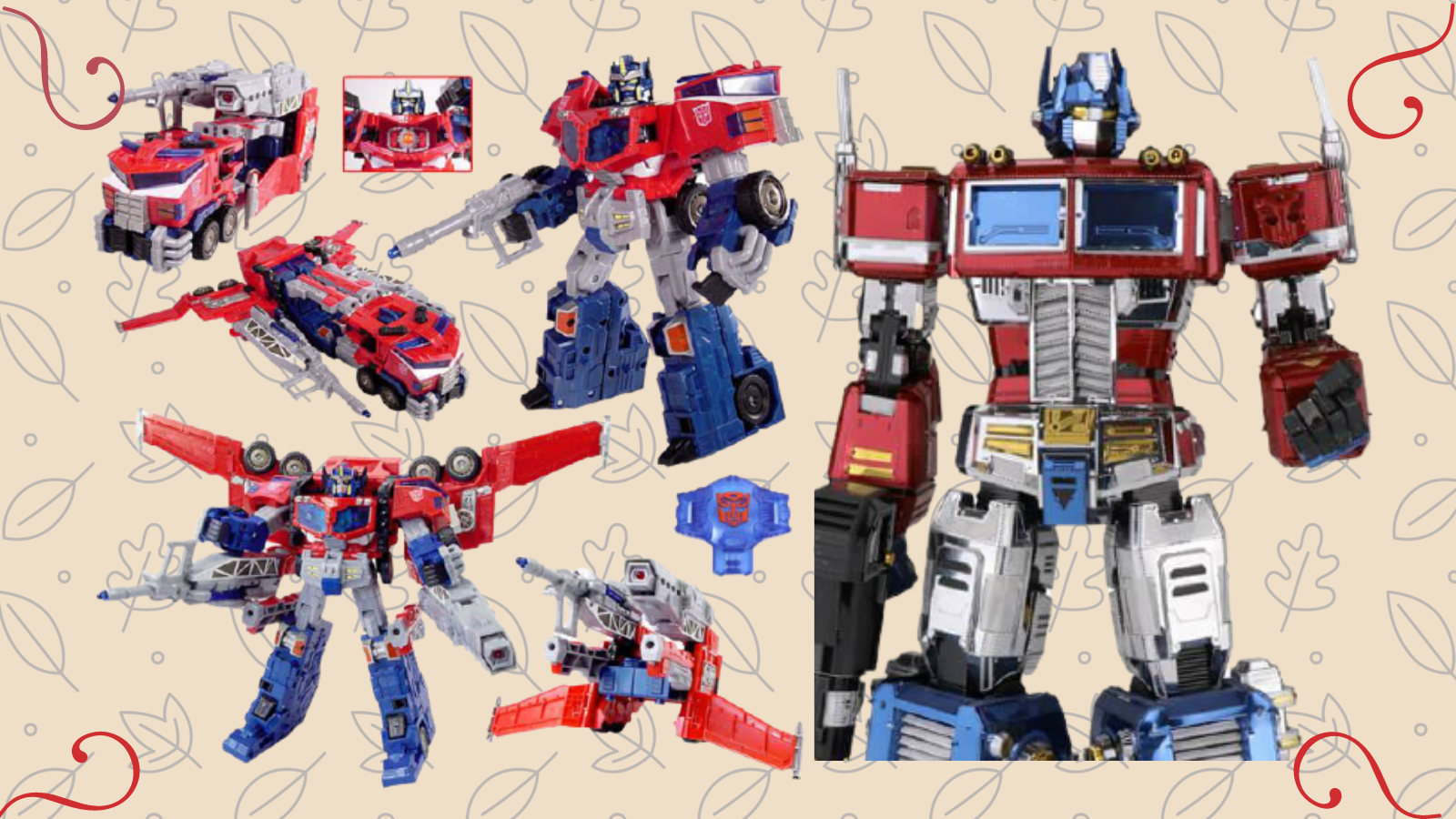 In maintained Europe two variants of the Optimus prime are available, the first version manufactured by Takara and the second version manufactured by Joustra's parent company Ceji. 
Optimus prime was available as a mail-away toy in the "digital doom on the highway to destruction" offer in the US in 1986. Over twenty-plus years this toy is very famous and sold in different countries.
Bumble Bee Toys
In present days Bumble Bee toys were more popular than the Optimus prime toys. It is a highly simplified toy with a highly complex design. This will convert easily as a robot and comes back. It is one of the main characters in the Transformers cartoons, animated movies and in the comics also.
This toy was released in two ways, the Hasbro version of the toy was initially a giveaway for the customers who purchased the movie toys, later released as a part of the blind-packed EZ collection lineup, distributed via Takara Tomy's toy company.
This Bumblebee toy converting robot changes into the classic yellow Volkswagen Beetle in 17 steps. It has some power charge cable, we have to charge up the core and charge into the battle. It will work only for 25 sounds/phrases and after that, it will lose its charge and power down. We have to again charge up to play with this toy.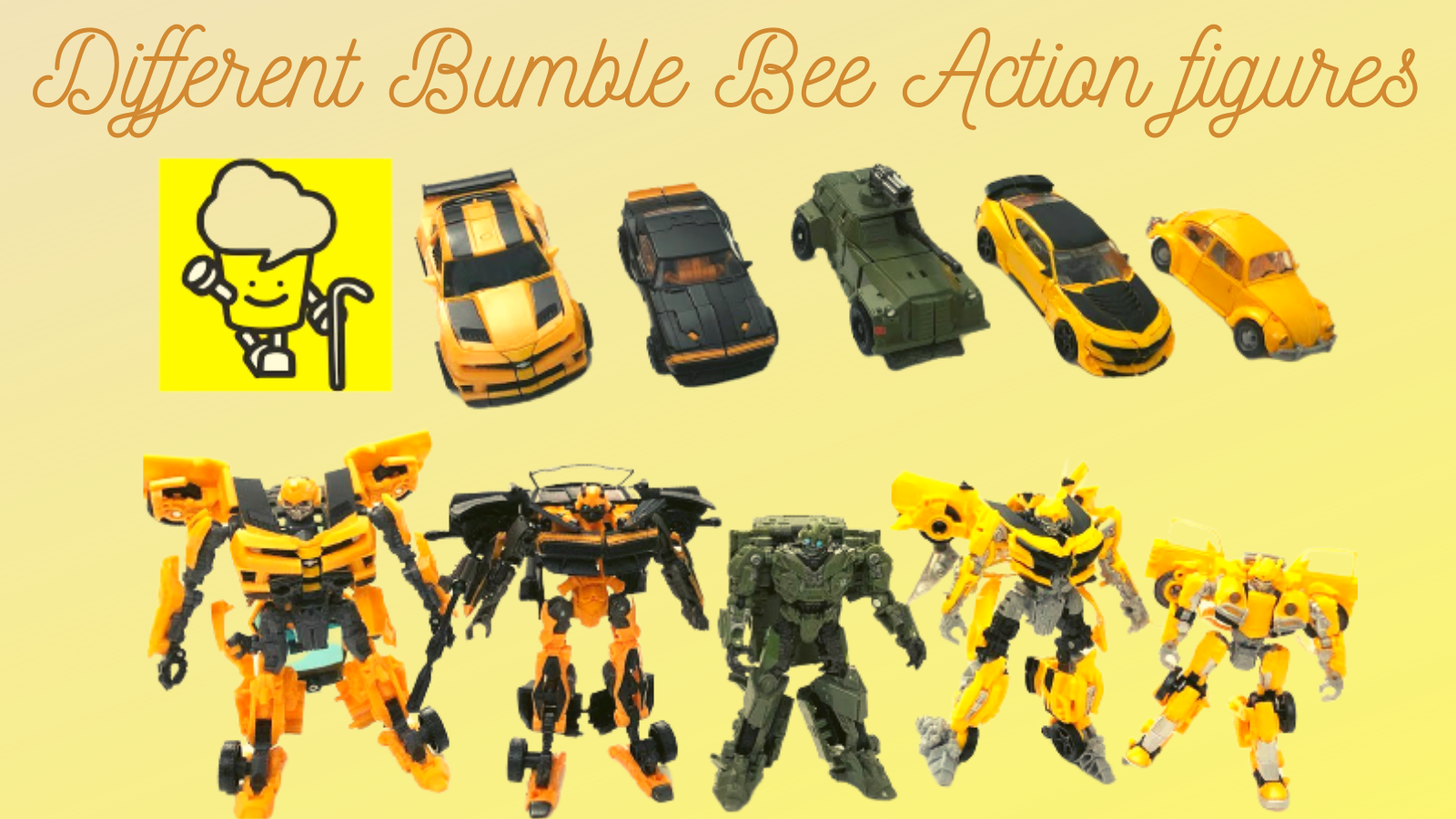 This toy is a great birthday/holiday gift for kids ages 6 years and above this age. We will have two ways to charge this toy, one way is to charge in the vehicle mode by revving the car back and forth and another way is in its robot mode by spinning the core in its chest to power up.
Also if you like transformers check out robot trains! They are similar transforming toys for kids and a lot of fun.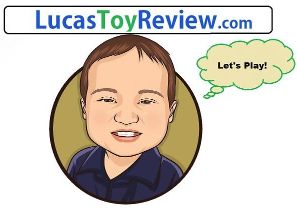 Lucas Toy Review Official Website from the popular YouTube toy reviews channel.