Play is an integral part of every childhood, it is necessary for kid's growth and for learning life skills. Toys are mainly made for children, especially for play. Kids will enjoy playing with toys and are considered to be important when it comes to growing up and learning about the world around them in a much better way. Toys nurtures healthy overall growth in children. There are many different kinds of toys available, among those Fireman Sam toys are one kind of toys.
Fireman Sam is a British animated comedy series for children, it's about a fireman named Sam, and his colleagues fellow firefighters. Kids usually like rescue adventures and so they are more attracted to fireman Sam toys.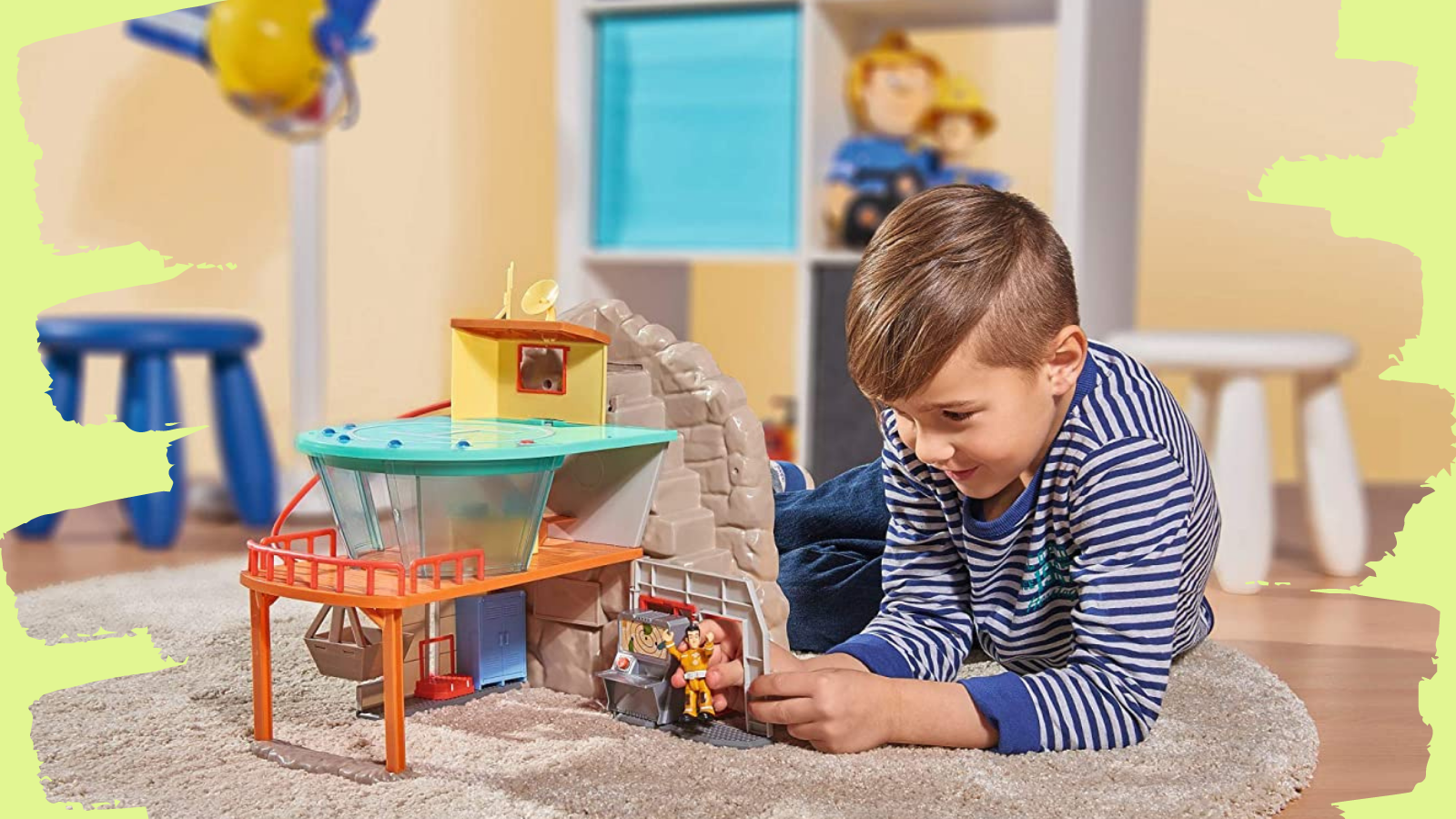 Here we have compiled the huge collection of the coolest & best fireman Sam toys with good quality & price and would like to explain how these toys support kids in their development of intelligence, hands on ability and natural ability improvement.
Check out the Ultimate guide about Fireman Sam.
Whole List of the Best Fireman Sam Toys: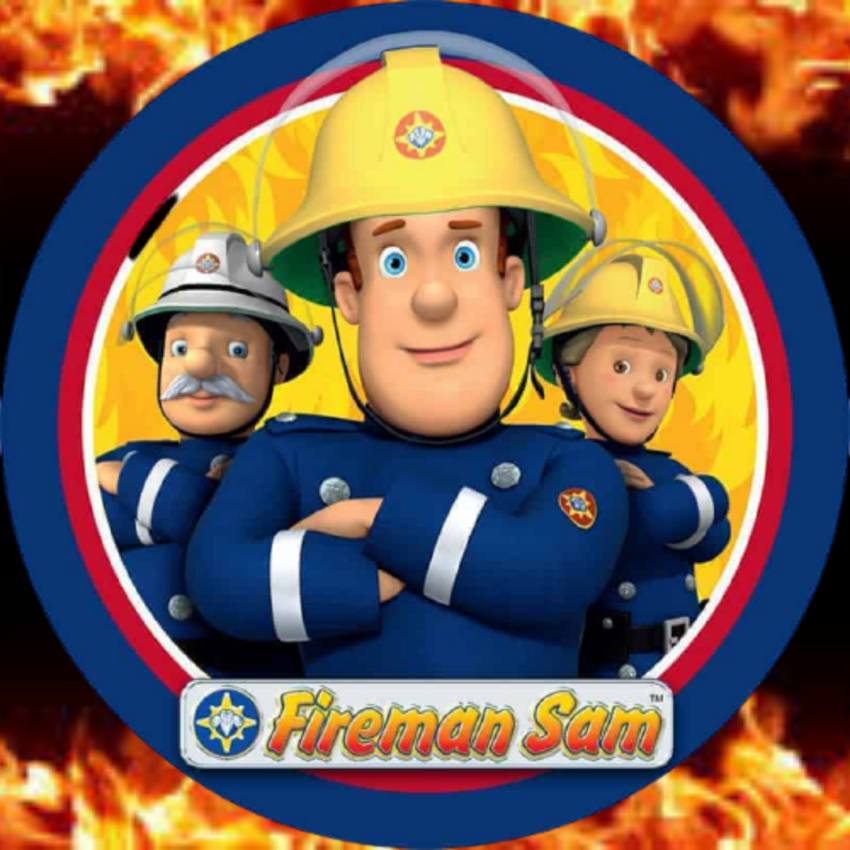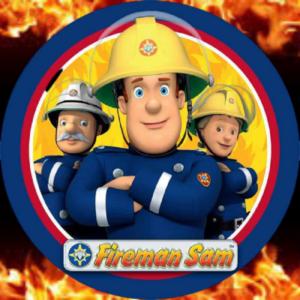 1. PlaySavvy Pop Up Play Tent & Pretend Fireman Costume for Kids, Toddlers, Boys, Girls.
2. Fireman Sam SAMS Pontypandy Mountain Rescue Center Fire Station Ages 3+.
3. WOOHOO TOYS Big Fire Truck Tent.
4. Sam Hydrus mit 1 Figur.
5. Hape Fire Station Playset.
6. JOYIN 4 Pack Friction Powered City Vehicles.
7. SLENPET Fire Truck Car Playset.
8. Kidkraft Fire Station Set.
9. Fireman Sam 07200 Fire Rescue Centre.
10. Born To Play Fireman Sam – Friction Fire Engine with Sam Figure.
In addition with these toys, check out the best kids toys.
1. PlaySavvy Pop Up Play Tent & Pretend Fireman Costume for Kids, Toddlers, Boys, Girls:

Kids love fire trucks and firefighters, they are fascinated by sirens, lights, cool uniforms, and tools. This playset has everything needed to keep them entertained for hours from extinguishing fires to keep your home and neighbourhood safe. PlaySavvy provides complete playsets that could be equally adored by both boys & girls for a long time.
This playset includes 20 pieces, a firetruck themed set, fireman hat, jacket, fire extinguisher, fire truck, 2 fire hydrants, 10 little figures, a variety of fire tools, and storage case. Firetruck themed tents are easy to set up within seconds and you can fold easily. It has a roll up door for easy access and is washable & breathable. 
Fireman hat is equipped with a face guard & adjustable strap on the inside, they designed this hat like one size fit for all kids. In the fireman Jacket, kids can store and hold all the tools, and also it has a storage garment bag, to safely keep these tools when not in use. Fire extinguisher is completely filled with water and squirt. 
Fire truck has lights & sounds, it rotates on the go and squirts water and comes with an adjustable ladder. These 2 fire hydrants designed soft & Squishy to have fine sensory skills and it is safe to use and fun for kids. It has 10 little figures, these are flexible to sit, stand, and come apart, you can teach your fine motor skills to these figures. 
It has a variety of fire tools and these look like real things, from crow bar to axle. It has a spacious carry bag to store all tools at the time of cleaning. This playset not only keeps your kids entertained for hours and it's an excellent learning resource and educational toy too. By playing with this toy your kids can develop their fine motor skills,  hand n eye coordination, imagination, creativity and sensory skills. This toy set is a perfect gift idea for both boys & girls who are aged 3+ years.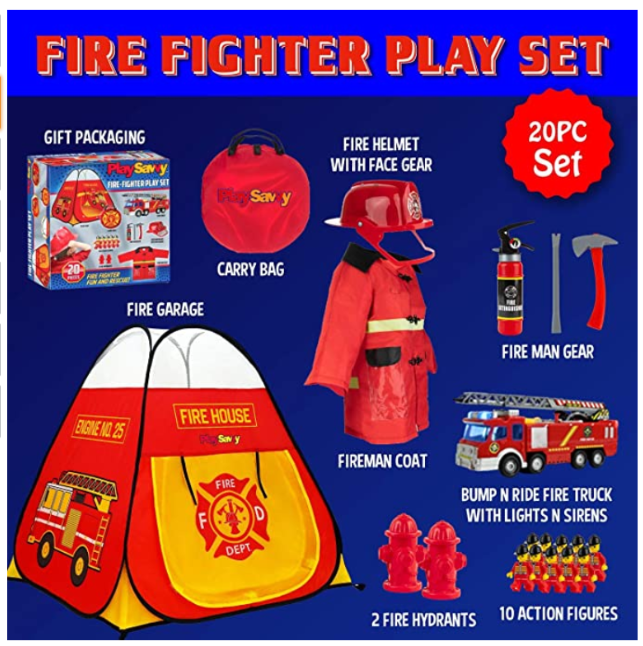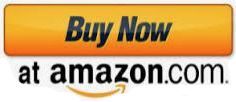 2. Fireman Sam SAMS Pontypandy Mountain Rescue Center Fire Station Ages 3+:

It's a fireman Sam mountain rescue center with lights and sounds, action figures and accessories included. This set is designed for play with other little characters like fireman Sam toys, and  is designed for play with deluxe helicopter and mountain 4 x 4, in Pontypandy town, if any emergency occurs then fireman Sam and fireman crew are there to help in emergency. 
This set is german made, imported and they designed this set scaled for play with all fireman Sam Little figures. Kids can play with this toy by creating their own rescue adventure. This toy is recommended for kids ages 3+years.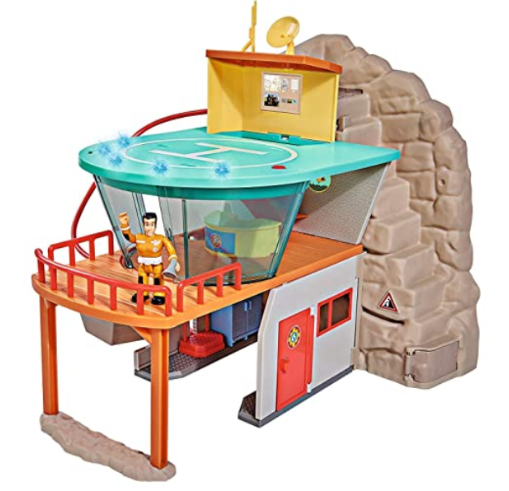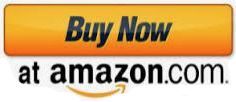 3. WOOHOO TOYS Big Fire Truck Tent:

This super fun big fire truck tent is designed by woohoo toys for kids, toddlers, boys, girls and children to pretend play. This fire truck tent is the biggest in the market compared to all, multiple children can play at a time in this tent to pretend play as fireman Sam, your kids can have plast play "inside" the fire truck. 
You can park the fire truck in any room of the house and this will turn the room into a fun place for children to pretend to play as fireman Sam. You can easily carry on this tent outdoors and your little kids can invite their friends for imaginative and creative role play on fire rescue adventures. They designed this tent is that, due to the lightweight of this tent with loops on the bottom to anchor the tent to the ground with stakes to keep the tent from flying away when used on the outside.
It has a ventilation feature from all the sides of the tent, along with the floor and top of the roof, due to this your child can breathe without any problem. You can turn this fire truck into a bed by adding additional beds inside of this truck. It has a velcro on each side of the tent doors, your kid can lock the door inside of the tent by keeping his finger in the velcro pockets.
Your kids can easily get into the tent without any obstruction through the entry. It comes with a convenient carry bag, to store the tent away or take anywhere this tent to outside like picnic, park, beach, playground, etc. 
All parts of these fire truck tents are laboratory tested  and are free of lead and phthalate, they meet federal regulations and are CPSIA compliant to be safe for your kids to play. You can easily clean this tent, water resistant polyester fabric. It's lightweight, you can easily move from one room to another. It's very easy to assemble with no loose parts to assemble. It's recommended for kids, who are aged 3+ years.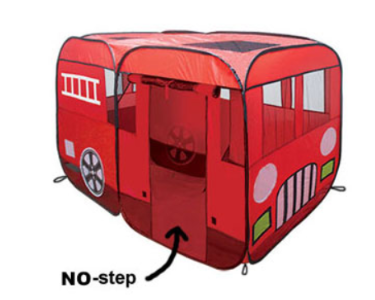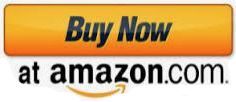 4. Sam Hydrus mit 1 Figur:
This pack includes a Fireman Sam figure with an Amphibian Hydrus vehicle. Firefighter Sam and his colleagues will have a lot to do in their little town, Pontypandy, with this hydrus vehicle, he can save many people on earth and in water. This Amphibian vehicle has six wheels, is 20 cm long and can also swim on the water. So this toy is perfect for your kids for playing in the bathtub.
It is made up of the plastic material, this vehicle has a special feature that floats in the water and drives on earth. Suitable for children ages 3+ years, packing dimensions: 15 W x 24.2  H x 15cm D. This is a good, great quality toy and perfect for all fans of the Fireman Sam.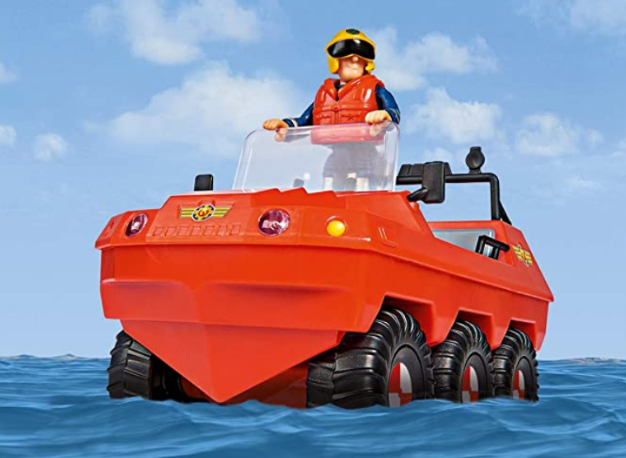 This is a fire station playset manufactured by Hape, it has many features to play. When kids push the button, the alarm will start ringing and flashing, button activated sounds and light effects add fun and realism to play scenarios (it requires 2 AAA batteries, not included). If there is an emergency, then we need to get the firefighter into the fire engine. By sliding the fireman down to the pole, you can sound the alarm bell and send your firefighter out to get those flames. 
 The firefighter comes with bendable arms & feet, you can make him fit inside the truck or the helicopter. You can ready everything needed to save lives, an ax, helicopter, fire hydrant, flag and control board. This playset has an automatic door, by pulling the string, the truck will rush out of the garage to solve the emergency. 
You can help the firefighter to climb the adjustable ladder with the hose to get a good vantage point for putting out the fire. Your kids can create their own fun play scenarios with this playset, there are endless opportunities for individual and group role play. This awesome & unique toy is perfect for kids who are aged 3 years and above.
This fire station playset is made of durable wood, this wooden fire station features natural textures and bright colors designed to stimulate your kids senses. You can trust that all materials are non- toxic, child safe and of the highest quality.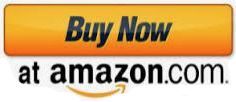 6. JOYIN 4 Pack Friction Powered City Vehicles:

This is a 4 in 1 friction powered city vehicle, includes 1 garbage truck, 1 fire engine truck, 1 boom lift truck, and 1 construction dump truck. All the vehicles have a feature of lights and making noises for a specific amount of time, like real vehicles. Each of the trucks will have their unique parts, which are functional.  All these trucks are friction powered, these will roll on their own with pushing for a long distance on smooth surfaces. 
Fire engine truck has a flexible & scaling ladder, it can be rotated and stretched out depending upon our requirement. Boom lift trucks have an aerial work platform, which can be elevated. Garbage trucks play like real things, cargo can be lifted, back doors can be opened to dump in "garbage". Construction dump trucks in this dump bucket can be open and able to be lifted for any necessary. 
All these trucks are made with high quality material, and available within reasonable price. It requires batteries (included), suitable for kids ages 3+ years. Each truck dimensions: 10.5" L x 3.5" H x 4.5" W like real trucks.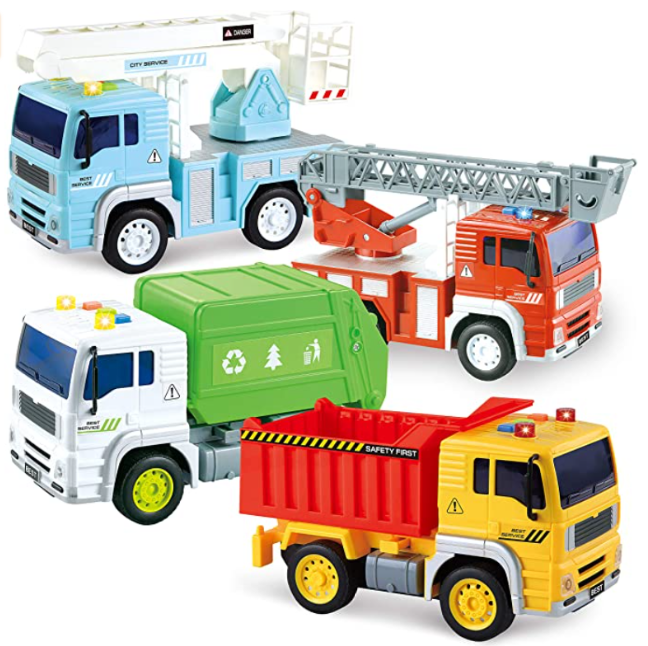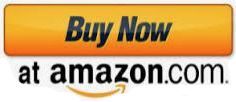 7. SLENPET Fire Truck Car Playset:

It's a 5 piece toy set, this fire truck toy set includes a 1 large transport fire truck, 2 rescue trucks, 1 airplane, 1 helicopter, these fire truck toys will bring lots of joy and fun to the kids. This fire truck toy is in the unique design with movable functional parts for a realistic look. Your kids can play with real lights & sound effects with this toy by pressing the button above the truck to play the sound & turn on the light, which adds to the realistic play and these look like real things. When you push this large truck, it can move to a long distance due to the inertia wheels.
This large cargo truck can transport rescue trucks, airplanes, helicopters. These 2 rescue trucks equipped with the extending rotating ladder, the helicopter equipped with the rotatable propeller. You can play the fire truck toys with your child, have a close interaction with them and become your kids growth partner. 
These vehicles are made from thickened durable ABS Plastic, very sturdy. Non toxic, lead free, environmental friendly, absolutely safe for your kids. Your kids can play with this toy set both indoor and outdoor, such as the living room, bedroom, lawns, preschools, kindergarten. 
This toy set is specially designed for kids ages 3+ years, ideal gift for kids for birthday, christmas parties, by playing with this toy, they can develop their imagination abilities and improve their creativity skills. This model is a fire truck and a construction truck model is also available.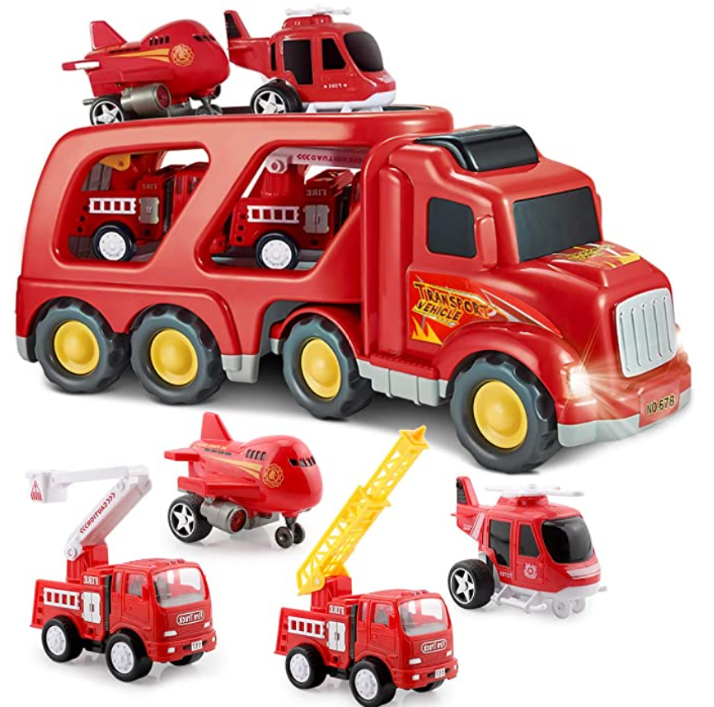 This is a wooden kidkraft fire station offers 360 degrees of imaginative play, this playset is constructed without walls, so that kids can access this fire house from any angle. It includes 15 accessible, bendable figures. When kids ring the bell, with the use of a floor to ceiling fire pole, this bendy fireman races down to their wooden fire truck and solves the problem.
A helicopter awaits on the roof, with the use of the fire truck or helicopter fireman to solve the problem. This playset also includes a bendy dalmatian, garage doors of the two vehicles can be open & close. Sturdy wood construction, made with material like wood, MDF, fabric and rubber. 
It includes a detailed step by step assembly instructions. This set is recommended for kids ages 3+ years and above. Dimensions: 16" L x 16" W x 20" H, Weight 20 lbs. Kids will love to pretend, they are the real life heroes when they play with this adorable wooden fire station.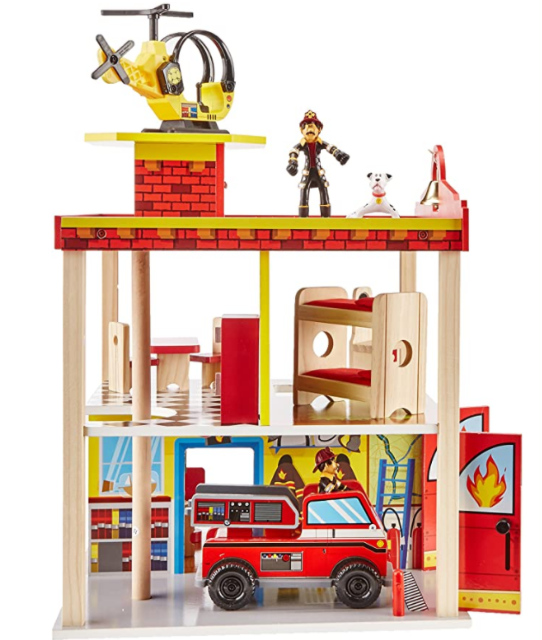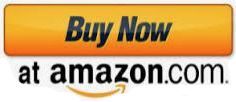 9. Fireman Sam 07200 Fire Rescue Centre:

This Fireman Sam Fire Rescue Centre includes a Fire Rescue centre with carrying handle, Zipline, Working Pulley, Control Unit, Table, Chair, Stretcher, Training Dolly and Fireman Sam figure. This playset is value packed for more adventures, and easy to carry with a portable design. You can practice his emergency drills, using the firefighters drills. You can simply clip him to spin down to the floor. 
He can have his perfect zipline techniques, you can move & watch him at the end of the zipline. You can do heroic rescues with the training dolly and working winch and stretcher. These fire station doors can open and are designed for play with character toys. 
This fireman Sam playset is the perfect toy for all fireman Sam fans and preschoolers who love a sense of adventure and heroic rescue in their imaginative play. Fire engine sold separately and recommended for kids ages 3 years and over.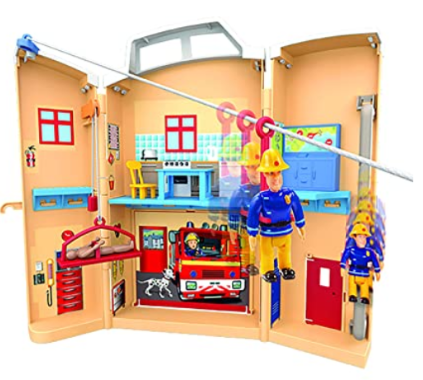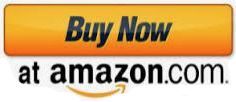 10. Born To Play Fireman Sam – Friction Fire Engine with Sam Figure:

This pack includes a friction fire engine with Sam figure by Born To Play. If your kids are fans of fireman Sam, they definitely love this toy. It's a fantastic friction powered jupiter with an articulated Sam figure, it has opening doors just like a real fire engine. It is made up of good quality material, well built. Easy to assemble, and it's recommended for kids ages 2+ years.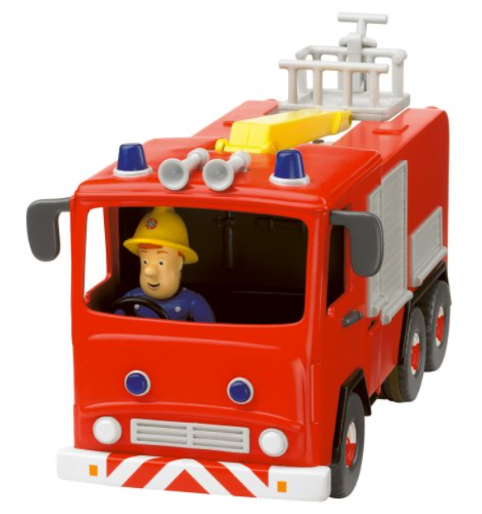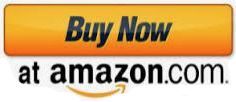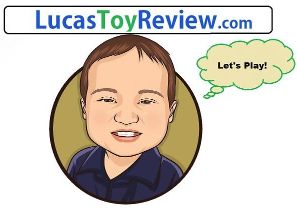 Lucas Toy Review Official Website from the popular YouTube toy reviews channel.