FurReal friends is a line of robotic toys created by Hasbro, they created the toys that look like real pets with realistic and robotic features. Kids like cats, dogs, and different domestic animals that they will like to play, but it may not be safe to play with these animals as in real life. 
 FurReal friends created these toys by considering these factors. Here Lucas Shares the Best Furreal Friends toys list and where we can get these toys with the best quality and price. These toys are great for kids and older people for entertainment, fun, and as a best friend. These are like real pets without any unnecessary responsibility.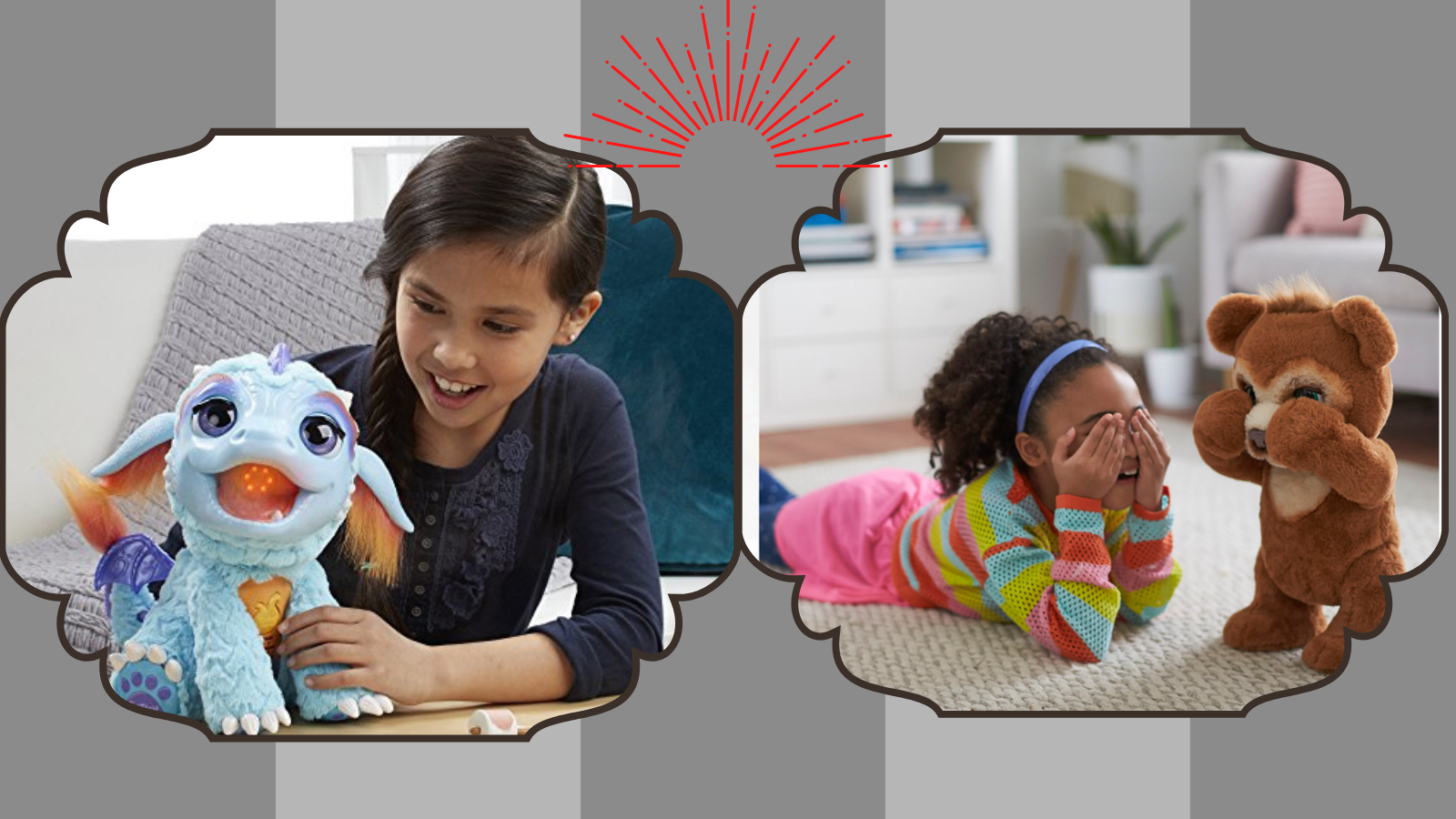 Check out the complete information, products of the FurReal toys.
Best FurReal Toys Complete List:
1. FurReal Friends Torch, My Blazin' Dragon.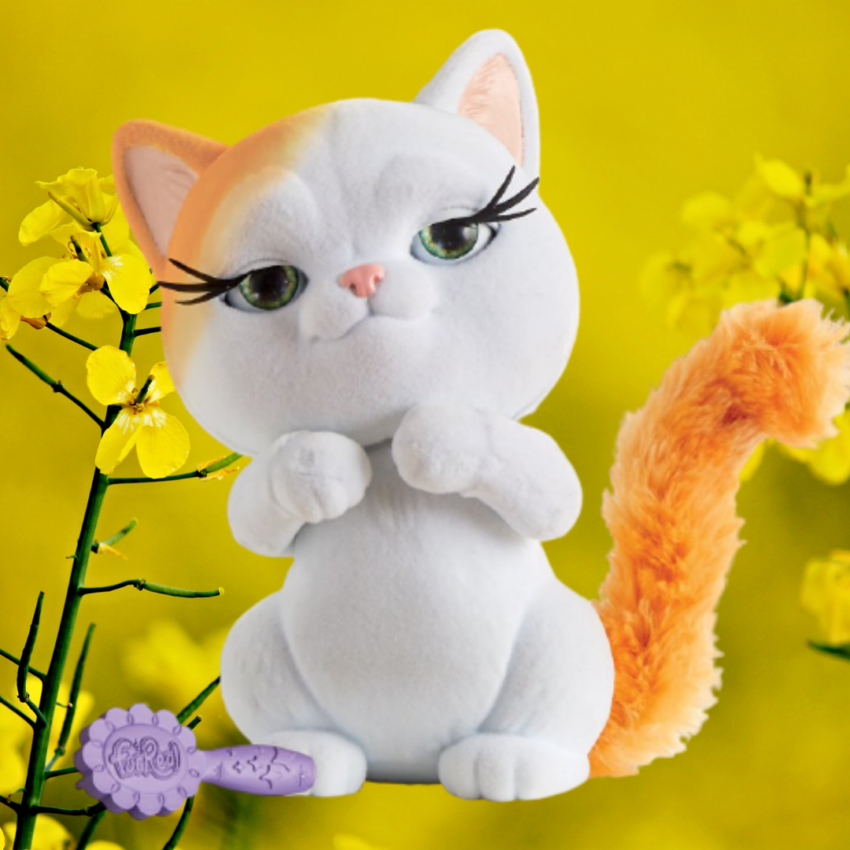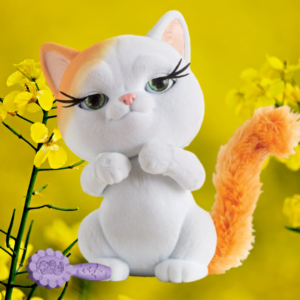 2.  JOY FOR ALL – Golden Pup with Red Bandanna.
3. FurReal Friends Ricky, the Trick-Lovin' Interactive Plush Pet Toy.
4. FurReal Flurry, My Baby Snow Leopard Interactive Plush Toy.
5. Juno My Baby Elephant.
6. FurReal Roarin' Tyler, the Playful Tiger.
7. FurReal Friends Cuddles My Giggly Monkey Pet.
8. FurReal Cubby, The Curious Bear Interactive Plush Toy.
9. FurReal Friends Bootsie.
10. Little Live Pets – My Kissing Puppy – Wrinkles.
In addition with these toys, check out the best Kids toys.
1. FurReal Friends Torch, My Blazin' Dragon:
Kids can get into the world of fantasy pet fun with Torch, My Blazin' Dragon, it includes a pet, a color-change treat, a water vial, 2 extra filters, and instructions. It's not an ordinary pet, comes from a fantastical place far, and has many wonderful features.
It is a highly interactive pet toy with very cool and special tricks. He can use water to make a flame-colored mist right from his mouth. It has interactive sensors on his mouth, nose, and a button badge on his chest. It has a water tank on his head, when we fill this water tank he will emit steam mode "flame-colored" by several orange lights in his mouth.
This wonderful and adorable baby dragon responds with 50+ sound and motion combinations, when we press his charm, pet his nose, or give him his favorite treat, it will give funny responses such as giggling, snorting, moving his head, breathing flame-colored mist, other sounds and movements. 
His front legs are fully poseable, just like any baby, he needs cuddles and care. This toy does not breathe flame, but he breathes flame-colored mist. When we hold the color-change treat to his mouth, then we can see how it changes to breathe mist onto it. 
It is so soft and cuddly, his noises are very cute and make him a lot of fun to watch and play. This adorable baby dragon with a fiery personality is full of fun and surprises and it's one of the happiest pets around! While playing with this toy kids can have lots of fun. It requires C batteries (not included) and best for kids ages 4+ years.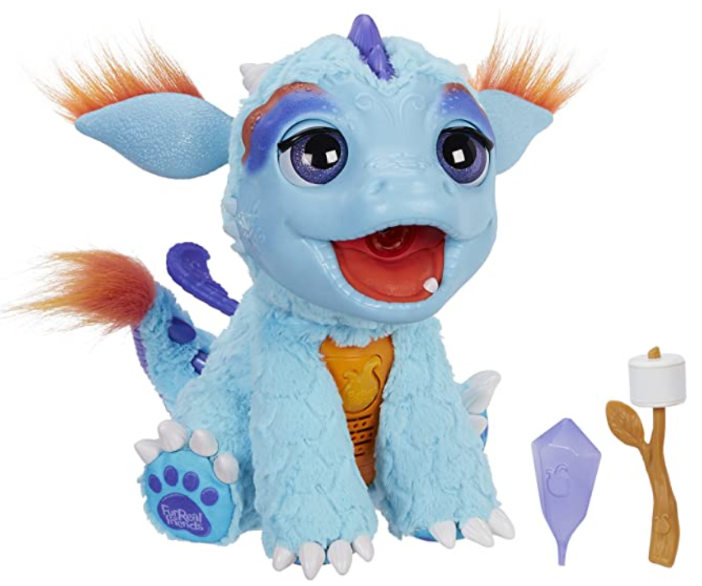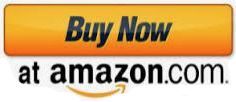 2. JOY FOR ALL – Golden Pup with Red Bandanna:
This toy is made by JOY FOR ALL, it's an interactive Companion pet acts just like a real puppy. With this puppy, you can feel the warmth and love of a companion pet without any excessive responsibility. It has some realistic features of owning a dog with convenience. It has a pet soft, lifelike fur coat, and you can feel the pup's calming heartbeat with this toy. 
Golden pup responds to your voice and motion because it is built with some sensors and barback technology, when you talk to your golden pup it responds barks back. With this innovative technology, this companion pet can move, sound like a real thing, we can feel like a real pup and it can bring the truth, joyful experience of owning a dog to all.
It's designed to bring comfort, companionship, and fun to aging loved ones. Joy for all companion pets has won the caregiver-friendly award from today's caregiver. This toy is great for older people & children and it's a perfect gift for pet lovers. 
It is much more than a real pup, this company creates this toy for elders and children to attach, share their love and care. It can provide a rich experience for older people to recreate some of the delightful moments of owning a pet without any responsibility.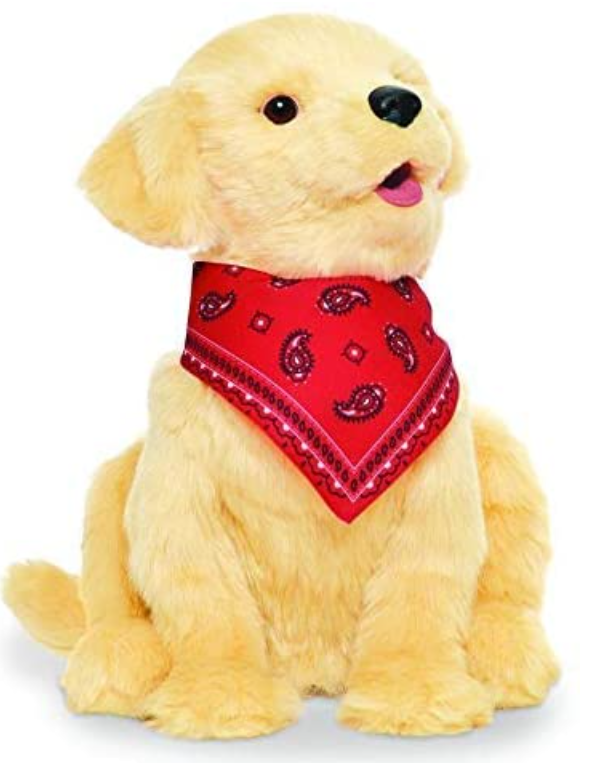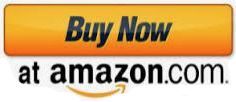 3. FurReal Friends Ricky, the Trick-Lovin' Interactive Plush Pet Toy:

Welcome to the FurReal brand's family of pets, furReal Ricky, the Trick-Lovin interactive plush pet toy can perform cool tricks. They designed these toys to be played and loved with, kids exciting and engaging play with these toys can help to create unforgettable childhood memories.  
This pet is eager to perform tricks and can entertain everyone who watches him, he can balance his bone toy on his nose and with a voice command or loud sound, flip it into his mouth. If your kid raises his hand and reaches the pup's paw then it will raise it for a friendly handshake. It enjoys a treat anytime. He responds with 100+ sounds and motion combinations, he can move his eyes, ears, and tilts his head so adorably.
Kids can pretend to play with this pup because they can be the pet trainers to encourage this clever pup to do tricks. Pet his cheeks and lean in for the best doggie licks. It's an incredible gift for kids ages 4 and up who dream of owning a loveable pet.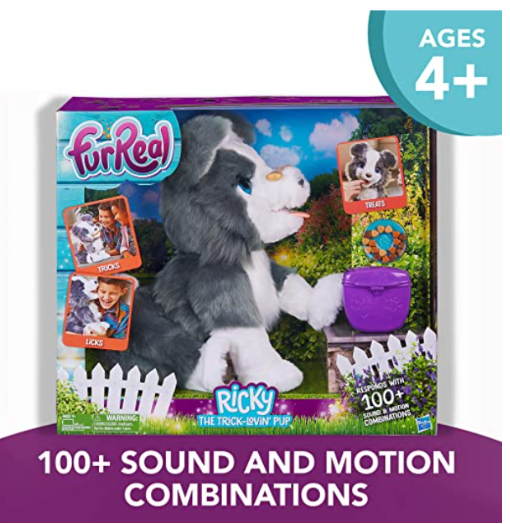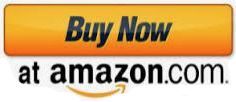 4. FurReal Flurry, My Baby Snow Leopard Interactive Plush Toy:
Flurry is one of the FurReal friends that can move, this sweet plush pet comes with a fish-shaped rattle, bottle, and instructions. When you feed her with her bottle, it makes different happy sounds, with 45+ different sound and motion combinations, this toy is full of surprises. 
When you shake her rattle, she responds and walks towards the rattle, that time it makes kitten-like noises, coos and kicks. It will always be ready for fun or cuddle time and she will be excited when you come around and always in the mood for a good hug. Flurry, my baby snow leopard pet looks and acts like a real snow leopard.
She is cute, mobile, and interactive, it contains all the necessary things to be a great pet. It's an adorable companion for girls and boys ages 4 and older, younger players would also enjoy this toy. It's the best gift for animal lovers and comes with demo batteries.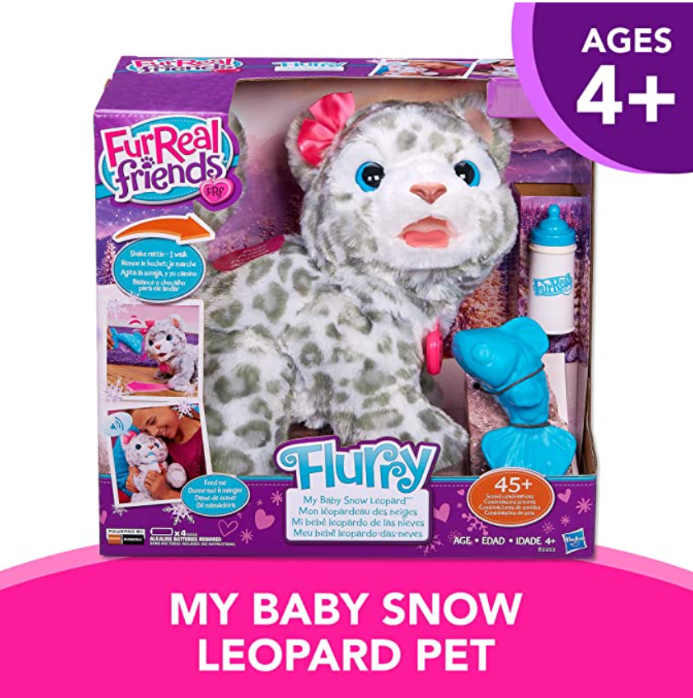 Juno My Baby Elephant is an adorable interactive pet elephant, you can love, train and  play with this toy.  It has an astonishing animated trunk, a highly realistic and playful moving trunk that responds to your touch, you can watch any mode of the play, it can use its trunk to make adorable noises, and it has floppy moving ears, highly expressive eyes, a wagging tail with some interactive accessories.
 When you switch on Juno, it makes a realistic 150 lifelike movements and sounds. You can teach special tricks and games to this by using peanut and mouse accessories. When you feed Juno with her peanut, then it may eat or throw away. You can teach her tricks on how to dance and trumpet with her trunk, you can discover more special games and tricks when you play together. 
It can learn how to eat peanuts, play music with her trumpeting trunk, dance, and more with your help. After playing with this toy, you can fold her legs, cuddle with her, pet her trunk, then she will give you a kiss. It requires 4 AA batteries (not included), it's a perfect gift for kids ages 5+ years.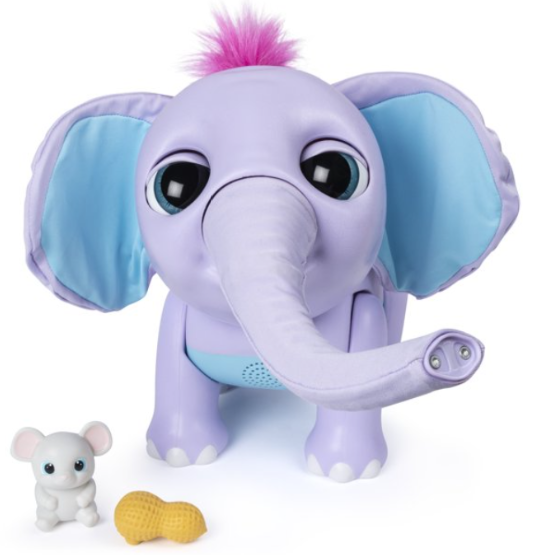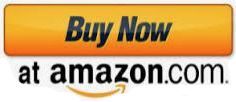 6. FurReal Roarin' Tyler, the Playful Tiger:
The FurReal Roarin' Tyler is an interactive plush toy ready to play and it is one of the jungle pets for kids. When we make some noise at her or roar, then she can respond by roaring back. It is an incredibly realistic pet responding to sounds and motions with 100+ realistic combinations. She can move her head, eyes, ears, mouth, and tail, when we touch her forehead, muzzle, or back then she can respond with sounds or movements.
When she is ready for fun, it moves her tail and makes her feel playful. It includes a pet, a cute little chicken toy, and an instruction booklet. When we place a chicken toy in her mouth and press down then we can listen to the fun sucking noises. 
It has a poseable back leg, this toy loves to be cuddled and responds with sweet sounds when you hold her. It's a fantastic gift for boys and girls ages 4 and up. This is one of the fun, loveable, cute pets, so soft and adorable.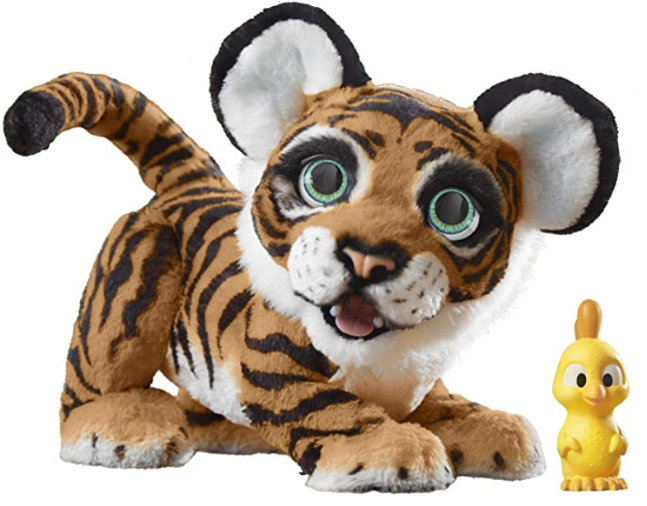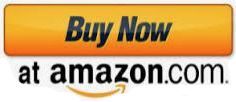 7. FurReal Friends Cuddles My Giggly Monkey Pet:

Welcome to the furry world of FurReal friends pets, these look like real pets, these toys satisfy the one's whose opinion of their pet. These FurReal friends cuddle my giggly monkey made up of high quality and safe material with a cute look, these are tested for quality and durability. It comes with this toy along with her bottle and her diaper, she will move her mouth when you feed her with a bottle. 
The way it's designed is to respond in more than 100 ways, when you swing, rock, and even feed it, you can see her reactions. When you cuddle her or tickle her, it responds with giggles or sounds. When you swing her in the air, it sounds "whee"! 
When the monkey is on the bed, it slowly closes her eyes and makes some snooze sounds. Kids will have all monkey fun with this Cuddles My Giggly Monkey Pet. This toy is recommended for kids ages 4+ years and makes a thoughtful gift for any occasion. It requires 4C batteries( not included).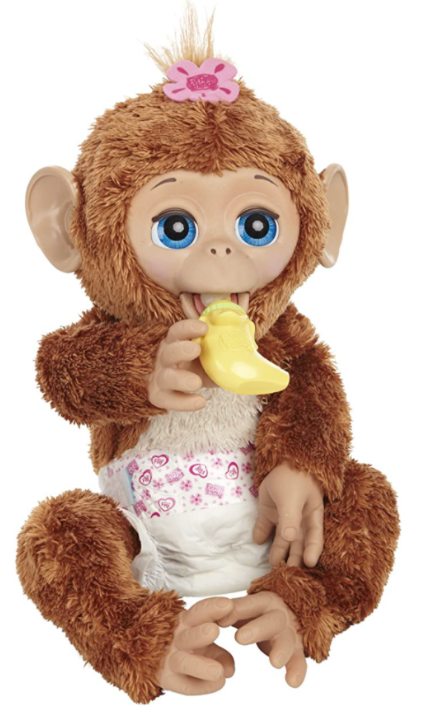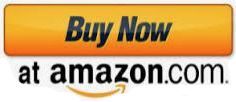 8. FurReal Cubby, The Curious Bear Interactive Plush Toy:

The curious bear interactive plush toy is a very cute and dream companion for kids. It includes a 3 in 1 accessory, a treat, a bottle, and a combo all in one. It is an expressive bear cub that loves to play with kids during the day and also at night, in night mode it closes his eyes, makes sleepy sounds, and plays one of four 5 minute sequences of soft music, he is a day to night best friend.
 He responds with over 100+ sounds and motion combinations, he can move his head, ears, eyes, nose, arms, and mouth with fun sounds. When moving eyes, nose, mouth, his face will be delightfully expressive.
It's a curious young cub and eager to wait for you to be picked up and held, it can even dance from time to time. It will give a sign for a snack in the middle of the play, we have to feed him with his battle or treat, while eating it gives sounds. 
This cub is eager to learn new things and can go on exciting adventures. Kids can enjoy by introducing him to their world all day and snuggling with them at night. It's a fantastic gift for kids ages 4+years and available in two colors. FurReal and all related properties are trademarks of Hasbro.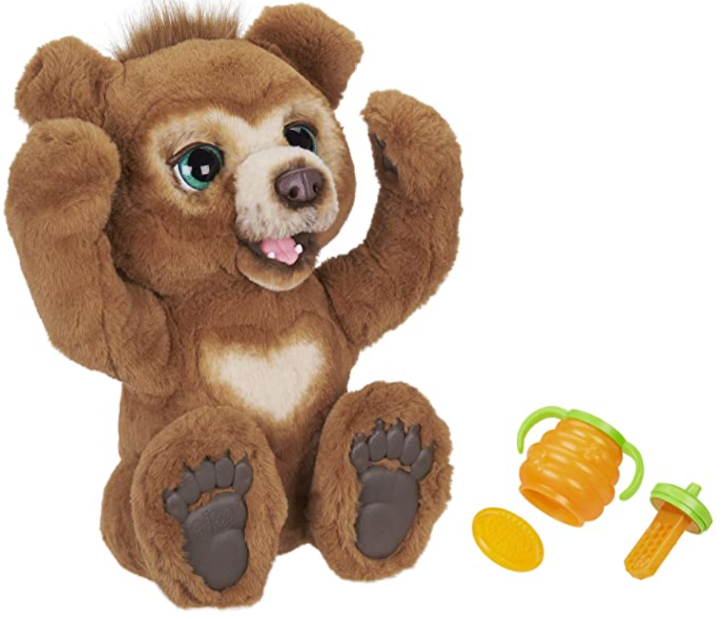 FurReal friends have a great idea for toys, children love to pretend play and games that involve role play tend to be a favorite. FurReal Friends Bootsie, a loveable, moody kitty with a big personality and looks & acts just like a real kitty. This toy set includes Bootsie pet, treat, and instructions, It's an interactive plush kitty toy, shows many moods and different sounds & motion combinations. 
Kids can identify the range of her moods like happy, sad, shy, excited, and sometimes even mad and if she is feeling though, then it's easy to change her mood just by playing with her. She has a light sensor that allows her to respond when someone waves at her. When we tap her mouth twice to make her cranky, or pet her on the forehead to identify the latest mood.
It has very soft fur and has a chance to turn on and off to save power. She has multiple interaction points so that children can pet, snuggle, and feed her to interact with this toy in multiple ways. When kids pick and hold her closely, she loves that cuddle. It requires 4 AA batteries (demo batteries included), this toy is ideal for both boys and girls, who are aged 4+ years.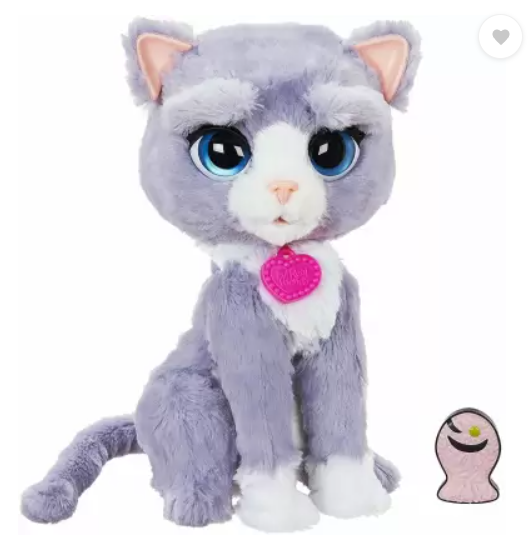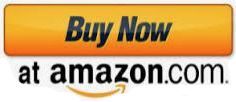 10. Little Live Pets – My Kissing Puppy – Wrinkles:
Wrinkles My Kissing Puppy! It includes a kissing puppy, adoption certificate, collar and tag, instruction booklet, 4 "AAA" batteries. This moves and acts like a real puppy, a really cute puppy, has a cute look, moves its eyes, tongue, wags its tail, and barks. It is made up of high-quality & very soft material. It wags its tail when it's happy, it can make cute puppy sounds. 
It comes with an adoption certificate so that your child can take home and make him their very own. Kids can play with 25+ sounds and actions of this toy. It likes giving puppy kisses and wags its tail when it is happy and exciting, just like a real puppy.
Kids can be ready for a kiss and a cuddle because this little guy likes to show how much he loves his companions. After a big day of fun, wrinkles close his eyes and when he sleeps. This toy is good for kids ages 4+ years.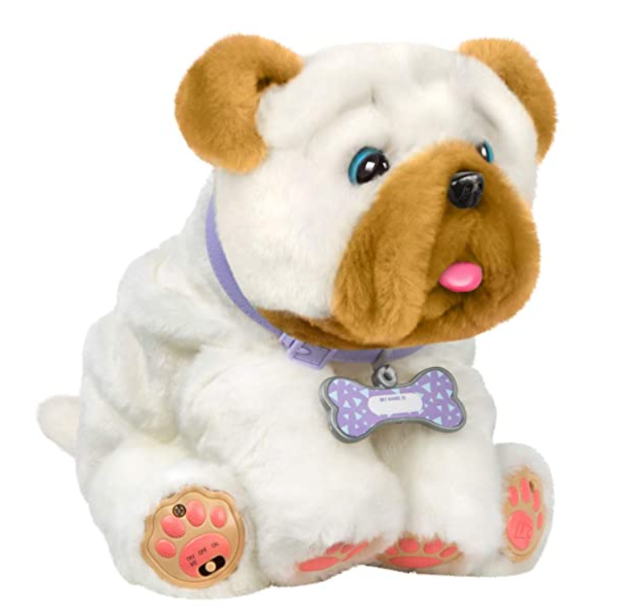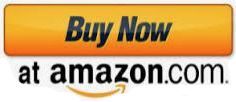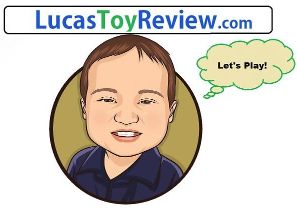 Lucas Toy Review Official Website from the popular YouTube toy reviews channel.