Today we're talking about how age and development stage should influence the purchases of toys for kids. While we clearly admit Lucas' lists of the best toys for kids, is not always the one we want to get him, it's all about a good mix and moderation. Getting your child the right toys depends on where they are at in their development.
Young children must-have toys that fit within their developmental stage and developing abilities. Your home is full of free toys that are safe for your child to play with, such as plastic bowls, lids, mixing spoons, silverware, pots, and pans. Children, no matter their age, find some enjoyment out of them and many others.
While toy manufacturers make recommended age suggestions, it's important to remember that every child develops at his or her own pace. Some children may be able to play with an older toy safely while others of the same age may need toys designed for younger children. Focus on their maturity level.
Toys Appropriate For Infants (Birth to Six Months)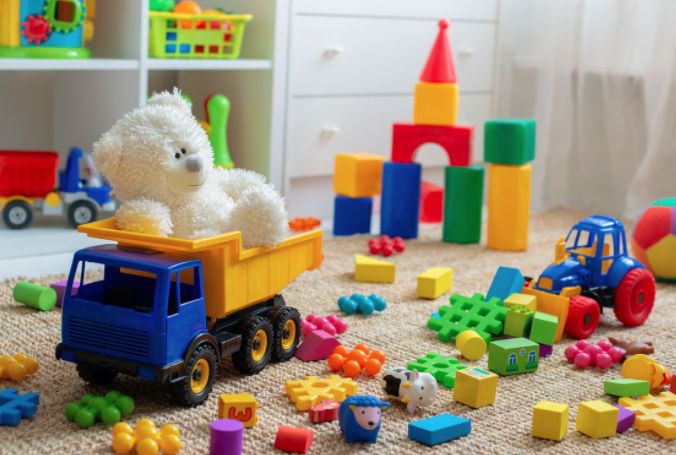 Babies will spend their time following people and bright-colored objects. Babies are fascinated with their hands and feet, putting things into their mouths, turning their heads toward a sound, or lifting their heads. Therefore, when it comes to the right toys, you need to consider the following:
Toys They Can Reach, Put Into Their Mouth, Suck, Shake, Hold, etc. – Rattles, squeeze toys, board books, vinyl books, soft dolls, etc.
Listening Items – Nursery rhymes and poem books and lullaby recordings
Items To Look At – Unbreakable mirrors, pictures of people in the family, animals, etc.
Toys Appropriate For Older Infants (Seven to 12 Months)
Once infants hit about seven months old, they're motivated to get moving. They start to bounce, scoot, creep, and even begin to pull themselves up to stand. They can recognize their own name and understand some common words. They can also recognize body parts, put things into containers, and take them out. They can also find objects hidden.  For older infants, the following toys do better:
I linked examples for Lucas who is 5. Clearly choose based on age appropriateness as these are not the best choices for toddlers who are 7 to 12 months old.
Pretend Play – water toys, wooden or plastic vehicles with wheels, puppets, baby dolls, etc. Fireman Sam toys have been one of his favorites pretend toys and they also teach him about the role of first responders and safety! I can also suggest FurReal under this pretend play toy category.
Drop and Take Out Toys – balls, nesting toys, plastic bowls, etc.

Cooking toys

fall into both these categories!
Building Toys – Wooden cubs, Lincoln logs, soft blocks (large in size) Besides legos, robot trains are a toy that Lucas really enjoys which gives him a chance to do some building and connecting.
Toys That Allows Them To Use Their Large Muscles – push and pull toys, large balls, soft, low-to-the-ground toys to crawl over.
Toys Appropriate For 1-Year-Olds
Your one-year-old is going to be up and moving. Most one-year-olds can walk around unassisted and climb the stairs. They love to listen to stories, can speak, and can play near other kids. They are also little experimenters, which is something you need to be mindful of.  What are the best toys for your little one-year-old?
Simple-illustrated board books or pictures of actual objects
Recordings – simple stories, rhymes, and songs
Creative Toys – crayons, washable markers, large paper
Pretend Play Toys – dolls, baby strollers, toy phones, stuffed toys, dress-up accessories, wood and plastic realistic vehicles, etc.
Building Toys – smaller wood or cardboard blocks
Toys That Use Both Large and Small Muscles – Balls of any size, large pegboard, puzzles, movable part toys. At this age, it's probably still too early for those action figures because they can choke on these types of kids toys. Still larger spiderman toys might be a good choice if they are safe and used under supervision.
Toys Appropriate For Two-Year-Olds (or Toddlers)
Toddlers are learning the language at a quick pace and have an idea of the danger. Still, they are going to test the limits (and your patience). They may jump from high up, hang by their arms, climb, play roughly and tumble around.  They have a good amount of control over their hands and like to play with a small object.  What does would be ideal for a toddler?
Problem-Solvers – wood puzzles, snap-together blocks, sorting objects, things that snap, hook, or buckle together
Pretend Play and Building – blocks, construction set, smaller but strong transportation toys, dolls with accessories, dress-up clothes, sand, and water play toys, child-sized furniture
Creative Toys – washable markers and crayons, fingerpaint, large paintbrushes, chalkboard, and big chalk, blunt-tip child scissors, rhythm instruments, etc.
Older picture books (more details than you get with the younger kids)
Toys For Their Large and Small Muscles – ride-on equipment (tricycles not recommended yet), small and large balls to throw and kick. Tunnels, hammering or pounding toys, etc.
DVDs or CDs with various kinds of music
Toys Appropriate For 3-to-6-Year-Olds (Preschool and Kindergarten Ages)
Toddlers have short attention spans, but as a child gets older, their attention span increases. They tend to talk much more and ask questions. They will experiment and learning what their physical limitations are. They will play with friends and get upset when they lose. They don't mind sharing with one or two more children. What toys can children of this age play with?
Problem-Solvers – puzzles up to 20 pieces, snap together blocks, smaller objects to sort by shape, smell, color, quantity, height, width or length, keys, counting bears, shells, plastic bowls and lids, etc.
Pretend Play Toys – construction and transportation toys, dress-up clothes, puppets, dolls with accessories, sand and water play toys, child-sized furniture, etc.
Creative Toys – large and small fingerpaint, paintbrushes, markers and crayons, paper for painting and drawing, chalkboard and chalk, modeling tools, glue, paste, cloth or paper scraps, modeling clay and playdough, rhythm instruments, tambourines, keyboards, maracas, etc.
DVD and CD players with different kinds of music
Picture books with more words and detailed artwork
Toys For Their Muscles – balls to catch, throw and kick, tunnels, wagons, wheelbarrows, ride-on equipment, etc.
Interactive Computer Software – If your child has a computer, get them interactive software – anything that offers graphics and will speak to them, allows them to control the pace of the software, and gives a chance to discover different concepts. Look into owleez as well as Peppa Pig! You might really like our list of the

best Peppa Pig toys

.
What To Keep In Mind When Looking For Toys (Regardless of Age)
It's imperative to find toys that are safe, which means avoiding toys that can lead to splinters, have sharp points, or can pinch. You also want toys that are non-toxic, free of lead, and can be easily cleaned. In particular in the day and age of Covid19.
If you buy any electric toys, you want ones that have been UL approved. UL stands for Underwriters Laboratories. No moving parts or pieces for children younger than three, as you don't want any toy to become lose and become stuck in their throat.
It's normal for wear and tear to occur, so a toy that used to be safe may no longer be safe. Regularly inspect your child's toys to make sure they are in good condition. Always visit the Consumer Product Safety Commission to see if a toy has been recalled.
Lastly, remember to spend more time disconnected at an early age when it comes to kids' toys. Here is an interesting take on some of the best non-electronic kids toys. Also always check out the latest in our blog covering advice for parents on choosing the best girls for kids.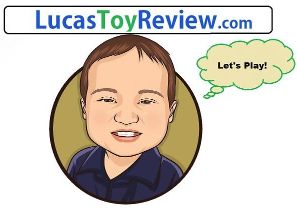 Lucas Toy Review Official Website from the popular YouTube toy reviews channel.